Hi Folks,
This week I went for Lush Lacquer's 'Neon Lights'. I previously showed this polish as an accent nail and everyone seemed to think it was nicer than the other polish which was a pink version.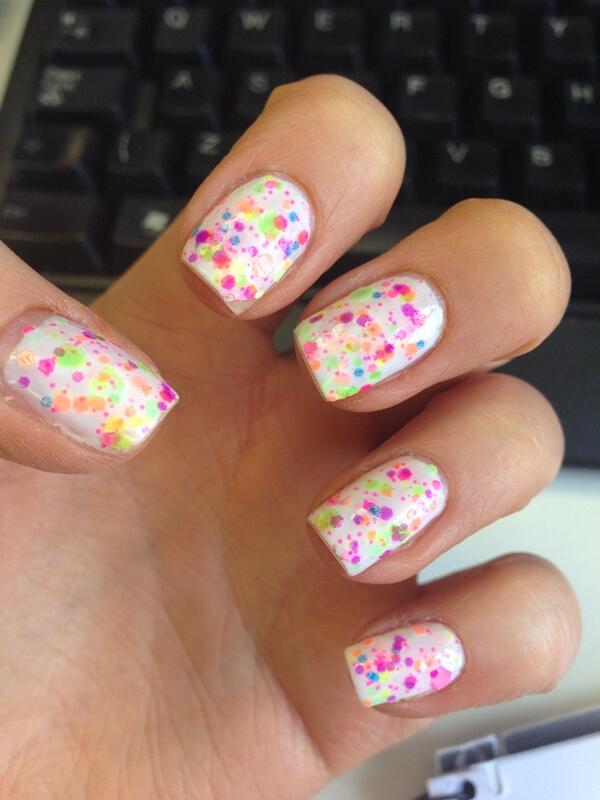 I have fake tan on in this photo, helps the white pop I think!
This is actually Neon Lights with a topcoat of 'Clowning Around' on top. Clowning Around is just more of the neon multi-colour glitter. I added a coat to give more pop to the colour as the white obviously covers some of the pieces when you do a second coat.
no tan in this photo
I feel like this polish is very much a summer time colour. White can be quite stark and a little tacky, but it's made really fun by the addition of the neon glitter (or some might say made even more tacky).
I got a lot of complements on this IRL, I suppose it's quite eye catching! Unfortunately, as I find with a lot of glitters, it started chipping fairly quickly. Taking it off is the same as with other glitters, not the most fun thing in the world but I got it off evenly.
Some of my nail collection in the background!
Lush Lacquer used to ship to Ireland and then stopped. I noticed they are shipping again if you are interested, click
here
. They actually have a few new ones since I made my purchase so maybe you may see more more featured here!
A quick shot of most of my collection (minus accessories)
This purchase from Lush Lacquer was my first ever indie purchase. I'll definitely be getting more brands in future, there are some amazing products out there!
What do you think of this combo? Is it too much for you?
xxx
Rach