Hi Everyone,
Recently it was my birthday. I like to take the day off if possible and have a fun, relaxing day. First up was a spray tan in Mudpie Beauty Boutique in Dundrum. I choose this place as it was near and open on a Sunday. The tan came out really well - they use Sienna and it was nice and dark, just how I wanted it. There were no dodgy streaks either. The girl did (in my opinion) smell like she had just had a cigarette before coming in to me (mints anyone?) and I wasn't greeted until I was in the place 10 mins but I am delighted with how the tan turned out.
This year, I also had the day before my birthday off. My mum brought me out that day and we went to Brown Thomas for lunch.
We then went to Fifth Avenue Nail Salon on Wicklow St (
http://fifthavenuedublin.ie/
) where we each had a 'chocolate manicure' as my mum's treat. Thank you mum! I have recently introduced the idea of manis and pedis to my mum and she is hooked now, haha!
Sorry for slightly blurry photo, this is Essie's French Affair
I went for a bright pastel pink by Essie called French Affair. I had a paraffin dip which makes your hands really soft, as well as a nice scrub and moisturise. While I don't think this salon is at the Mink level, it's in a much handier location and it is a nice treat.
She bought me some lovely gifts - tickets to Billy Joel, some clothes and also this lovely Avoca blanket which is so my style!
The blanket is folded up about 8 times here, it will cover a double bed easily when unfolded. I absolutely love it!
On my actual birthday, I went to Rainforest Golf in Dundrum (
http://www.rainforestadventuregolf.ie/
) with my boyfriend. I had always wanted to go but was afraid it would be overrun with kids. It was empty when we went, and we were able to take up their special offers as we arrived before noon.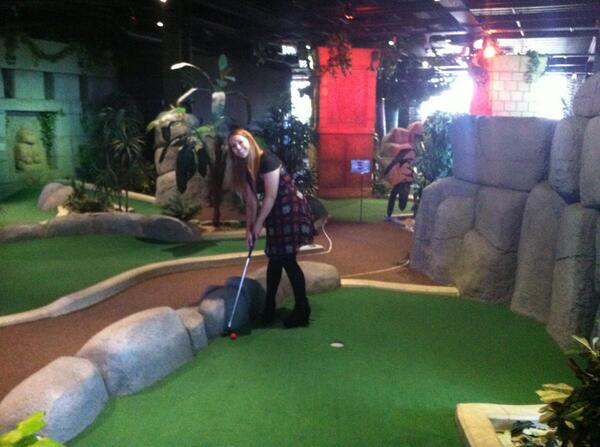 I had a brilliant time here and actually got two holes-in-one which I was delighted with.
Then we went up to Carrickmines to a place called Barry and Browne. I have been here a few times, they do great baked goods in particular. I had a slice of Bakewell which was so fresh and tasty and an Oreo milkshake. Yum!
Next up was a trip to my favourite salon, Ebano Ballinteer where I got my hair done (
https://www.facebook.com/ebanoballinteer?fref=ts
).
This picture got a lot of interest on Twitter.
I will admit that this is not 100% natural. My own hair is pretty long but the blonde is in fact microbead extensions. I have had extensions for almost 3 years and will do a more detailed post in future. I would recommend Ebano to everyone looking for extensions, I have only every gone to them and I have been delighted with the results!
In Roly's
Finally, I went to Roly's Bistro with a menupages deal I had bought. It was packed as UCD had had a graduation ceremony that day. My boyfriend and I have been to Roly's many times and we love the food. I was sooo full afterwards though!
The day after, I met a friend for lunch. She and another friend bought me this amazing present of a YSL palette. It's so me, I love the YSL brand and the colour pink! It looks like an iPhone I think.
So this year I have had a really amazing time. Hopefully every year can be as good!
xxx
Rach